Abstract:

On May 11, local time, the Russian government approved the list of legal entities that imposed retaliatory sanctions on 31 energy companies.

On May 11, local time, the Russian government approved the list of legal entities that imposed retaliatory sanctions on 31 energy companies. These companies are all related to Gazprom (hereinafter referred to as Gazprom), most of which are former subsidiaries. The government order and sanctions list signed by Russian Prime Minister Mishustin were released on the official portal of Russian government legal information on the same day.



The sanctions list includes 31 companies supplying and selling Russian natural gas from European countries such as Germany, the United Kingdom, France, Austria, Switzerland, Belgium, Italy, the Czech Republic, Slovakia, Bulgaria, Romania, Poland, as well as the United States and Singapore. Most of these are former Gazprom subsidiaries linked to Germany's Gazprom Germania and Gazprom Marketing & Trading Ltd., as well as traders and operators of underground gas storage facilities.

Also affected by sanctions is EuRoPol GAZ SA, a joint Polish-Gazprom joint venture that owns the Polish section of the Yamal-Europe gas pipeline.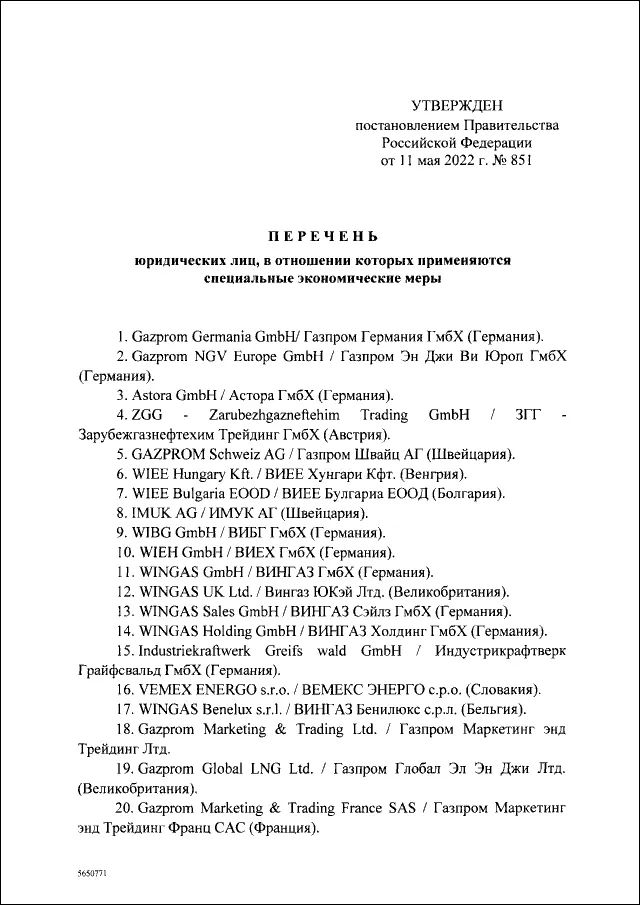 Sanctions List

The document also stipulates that the Russian side is prohibited from conducting transactions with the listed companies, including transactions in which these companies are beneficiaries; payments and securities transactions conducted by these companies as participants or beneficiaries; under the authorization of or for the benefit of these companies, Transactions under its name or chartered ships entering Russian ports, etc.

European gas jumped on Thursday as concerns about supply disruptions intensified after Russia sanctioned several European gas supply chain companies. ICE UK natural gas futures closed up 25.6% after jumping 34%, while European benchmark TTF Dutch natural gas futures closed up 12% after jumping more than 20%, standing above the psychological level of 100 euros/MWh. German electricity prices soared, with contracts up more than 20% in recent months.


In chemical production, natural gas participates in production as energy on the one hand, and directly participates in the reaction as a raw material on the other hand. Earlier, when the EU announced sanctions against Russian natural gas, the CEO of BASF said that natural gas is irreplaceable, whether as a raw material for chemicals or a source of energy.

Natural gas is mainly used as a raw material to prepare synthetic gas, which is particularly important in chemical production. It can be said that without natural gas participating in the reaction, synthesis gas cannot be obtained, and it is impossible to continue the reaction to prepare finished products. Based on the importance of natural gas in chemical production, when the natural gas supply is unstable, it will affect the operation stability and continuity of chemical plants. This is a big challenge for chemical production, and there will be a stable supply of various chemicals, contract execution, supply and demand contradictions and so on.