Abstract:

How to escort new materials

Recently, the launching ceremony of China's third aircraft carrier was held at the Jiangnan Shipyard of China State Shipbuilding Corporation. Approved by the Central Military Commission, China's third aircraft carrier was named "Fujian Ship of the Chinese People's Liberation Army Navy", with the hull number "18". The "Fujian Ship" is the third aircraft carrier owned by China after the "Liaoning Ship" and "Shandong Ship". It adopts a straight and long flight deck, is equipped with electromagnetic ejection and blocking devices, and has a full-load displacement of more than 80,000 tons. And the first application of electromagnetic ejection technology in China. Therefore, the launch of the "Fujian Ship" undoubtedly opened a new chapter in the development of the Chinese Navy's aircraft carrier and ocean operations.
Materials are the basis for advancing the development of aircraft carrier technology. The performance level of the material greatly affects the function of each system, which in turn determines the performance level of the aircraft carrier. Therefore, it is required that the materials for aircraft carriers must have high strength, high toughness, anti-seawater corrosion, anti-magnetic, high temperature and impact resistance, anti-microbial corrosion, and high crack arrest performance. At present, a series of high-performance advanced materials are widely used in the key components of aircraft carriers, promoting the development of aircraft carrier engineering, including: special alloy steel, advanced titanium and titanium alloys, nano thermal barrier coatings, deck anti-skid and anti-corrosion coatings, etc.
There are many kinds of special alloy steel, usually divided into low alloy steel, medium alloy steel, high alloy steel according to the content of alloy elements, high quality alloy steel and special alloy steel according to quality. Advanced titanium alloys refer to alloys made of titanium based on the addition of other elements. Compared with other alloys, advanced titanium alloys have the advantages of high specific strength and good corrosion resistance, and are widely used in aerospace, chemical and manufacturing fields. Advanced titanium alloys can be divided into many types. According to the composition in equilibrium and metastable states, titanium alloys can be divided into α type, near α type, α+β type, near β type, β type and full β type, etc.; According to the performance characteristics, it can be divided into structural titanium alloy, heat-strength titanium alloy, corrosion-resistant titanium alloy and functional titanium alloy.Ceramic thermal barrier coating, ceramic matrix composite material has the advantages of low density, high temperature resistance, corrosion resistance and ablation resistance, and the temperature resistance is as high as 1370~1480℃. Excellent candidate for components such as stator vanes, afterburner flame stabilizers, exhaust nozzle flaps, etc.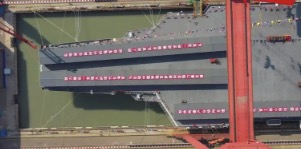 Anti-skid and anti-corrosion coatings for aircraft carrier decks. In recent years, various new anti-skid coatings such as amorphous metal-based coatings, high-durability anti-skid coatings, single-layer quick-drying anti-skid coatings, and single-layer quick-drying anti-skid coatings have been developed abroad. In order to further improve the corrosion resistance and high temperature resistance of anti-skid coatings, and reduce the workload of use and maintenance.
Graphene anti-corrosion coating, this new type of anti-corrosion coating fills the gap in the application of graphene in the field of anti-corrosion at home and abroad. Graphene is the hardest and thinnest nano-material known to mankind. It is believed that its anti-corrosion coating will be applied to the anti-corrosion field of large-scale military equipment such as aircraft carriers in the near future.